Pergola Covers – Handyman Myrtle Beach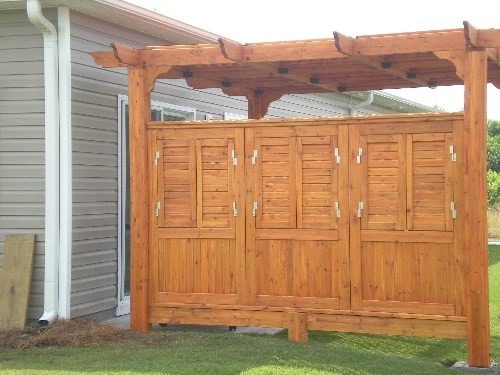 Can a Pergola be the Solution you are looking for?
We the handyman Myrtle beach team have been thinking of ways to make the garden, patio or any part of the outdoor landscape around your home stand out and deliver beauty, elegance and functionality. We have some ideas for you.
Pergolas and Pergola Covers – Handyman Myrtle Beach Ideas
Some pergola covers will allow sunshine and the view through but also block out rain and leaves. There are a few ways to accomplish this. Think about adding a transparent cover to your pergola. Clear or transparent products designed for outdoor use are usually readily available. Once they are cut to size put the panels on top of your pergola and attach them with wood anchoring screws to keep them in place. Fiberglass is one of the possible choices here. Just make sure you opt for materials which are resistant to damage and yellowing in the sunlight.
Pergolas offer semi shade to spots of your property wherever it is wanted. Many pergolas have a wood lattice on top. This style filters out some of the sunlight yet won't block it out entirely.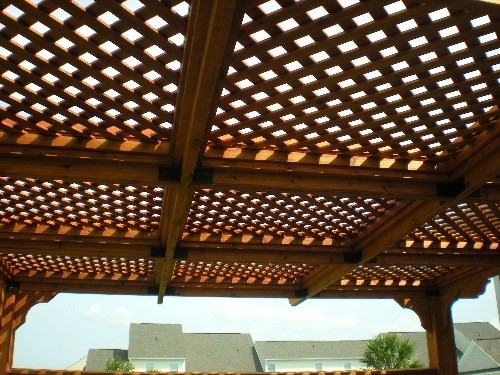 Are Pergolas a DIY or a DIFM project?
Making your own cover can be economical and offers you more control if your willing to do the work yourself. To answer the question, yes if you have some carpentry skills or I am your neighbor and you feed me well. For many the idea of having someone else DIFM (Do It For Me) is more appealing. If so the handyman myrtle beach team is here as a local option. We do more it out entirely.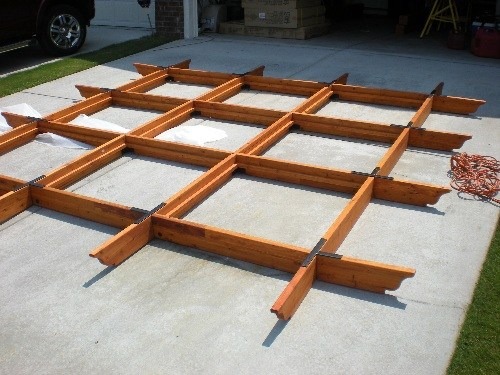 How about a "Oh Natural" Pergola
This version always creates a lot of discussion although I do not see it used as often. Want to make use of the natural materials available and create a rustic natural design. Well you could wait for vines to grow in or you can use branches and twigs to create a covering. Twig fencing is offered in some home improvement retailers. Roll it out over the top of your pergola and fasten with wire. Want to make it even more personal, cut branches from your property and add them by wiring them into place.
I want my pergola to be Unique like me.
If you like being unique style we suggest you consider a Japanese or Asian style pergola especially for garden areas. Select cedar or even redwood and stain it a reddish color to make it the focal point of your patio or garden. Some people are leery of making this choice when your house and landscaping aren't in Asian or Japanese design. You may want to reconsider as this type of pergola can add a level of uniqueness and elegance to your patio or garden that no other pergola style can offer. A great location for this style of pergola is between the lawn and flower garden or anywhere you want to create a transition point. Some additional tips would be to add potted roses (A trailing variety) on every side of the pergola to help you soften its appearance. This type of pergola can also work great with water fountains or even over a wooden bench.
Construction Do's and Don'ts or I wish I did… We will not mention names here.
Make sure you anchor the columns securely. There are a lot of ways to do this so call or ask an expert.
The four columns you use to construct your pergola can be made of wood, PVC or poured concrete for more durability. The beams and top can be made from wood, PVC or other material as mentioned earlier.
To secure the actual beams, center them on the rafters so that each and every end is overhanging equally on every side. Use three-inch anchoring screws to secure every bolt on the rafters. You might need to use hurricane ties to further secure the beams especially if you live in a location subject to high winds.
Dressing up your Pergola – Myrtle Beach Handyman
A pergola is really a big arbor which is usually made of wood. Pergolas give you a so many style options, from elegant, rustic to decorative, One of our favorite elegant looks happens when vines are trained to crawl up the structure.
We recommend staining your wooden pergola with a color that will fit your all round design and give you the feel and appearance you desire.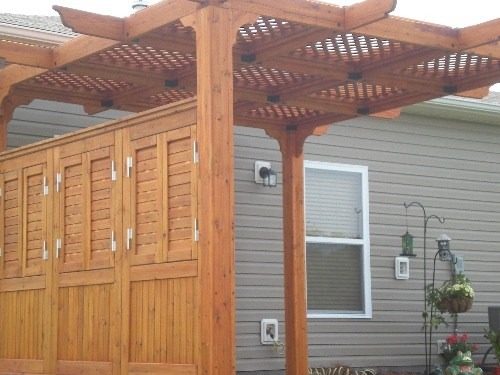 Like all projects there are almost limitless design choices and styles. Here is a final picture of a recent pergola handyman Myrtle Beach constructed for a client. What do you think?